Originally from Wisconsin, Theresa started playing the piano at the age of seven with her mother and brother. Theresa went on to complete a Bachelor's of Music degree in Piano Performance at the University of Wisconsin in Madison. She then earned a Master's of Music degree in Piano Performance at the Chicago College of Performing Arts.
Theresa spent several years in Chicago as a faculty member at Roosevelt University teaching music theory, ear training, and group piano to music majors. She also worked as a piano teacher and Education Director of the ACM School of Music.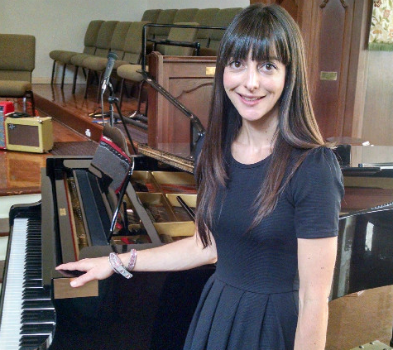 Theresa teaches all ages at the beginner through advanced levels. In her lessons for children, she expands on the traditional path with creative activities like composing, improvising, and learning by ear. Piano lessons for very young learners are an introduction to music with that same emphasis on creativity. Theresa also enjoys working with adult students of all levels. Theresa teaches both traditional classical and contemporary styles including popular music and jazz. Theresa is also available for music theory lessons for beginners through the college level.
Theresa also enjoys teaching young beginning voice students with whom she focuses on learning melodies and lyrics in addition to ear training. Theresa believes that combining voice and piano is an excellent and enjoyable way for students to experience music lessons.
Theresa's approach to music lessons is patience and she strives to find the best way to communicate with each student. She believes that learning music should be a positive experience for every student.