Altadena Academy of Music students are invited to participate in optional recitals throughout the year. Recitals are held about twice a year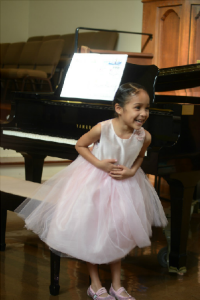 so that students have ample time for preparation. All ages and levels are welcome to perform and our professional, experienced instructors take great care in preparing students for the recitals.
Recitals are free for students, families, and friends to attend and are held at a location near the Academy. Performers are asked to bring a non‑perishable food item to donate to a local charity.
Benefits of Performing at a Music Recital
1. Strengthen Your Practice Routine. Preparing for a recital provides the additional motivation that encourages students in their daily practice.
2. Build Confidence. Even though performing in front of an audience can cause some butterflies in the stomach, the accomplishment of a recital performance (and the audience's applause) builds confidence.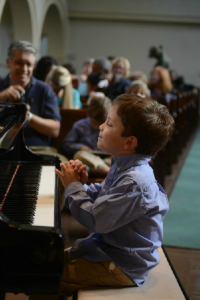 3. Express Yourself. Performing a song in a personal style or interpretation expresses to the audience how a performer feels about the music.
4. Accept Mistakes. No one is ever perfect in a live performance (even professional musicians make mistakes) and with each recital experience, students learn that the overall performance is what matters and not a wrong note here and there.
5. Earn Recognition. Music students practice regularly every week. Recitals are an opportunity for family and friends to recognize the hard work and effort that has been put in by the student.
6. Have Fun!